On November 30, 2020, a Didi delegation led by Bo Zhang, Co-founder and CTO of Didi Chuxing and CEO of Didi Autonomous Driving Company, visited Zhiyuan and met with Professor Mei Hong, Secretary of General Party Branch Committee, Professor Junliang Zhang, Executive Deputy Dean, Weiliang Xia, Associate Dean and Bing Li, Director of the Cooperation and Exchange.
Bo Zhang and Weiliang Xia had introduced the status quo and developments of Didi and Zhiyuan respectively, and the two sides conducted constructive discussions on the joint talent cultivation cause in fields such as Computer Science. Junliang Zhang mentioned that many high-tech companies usually could put forward some cutting-edge scientific and technological problems, which are of great significance to university talent cultivation and scientific research. Didi and Zhiyuan are actively engaged in the integration and mutual assistance of production and education in these areas, which will certainly train more reserve forces for our country's science and technology development. Bo Zhang said that Didi pays great attention to the growth of top talents in our country's basic disciplines and aims to become an international platform for the cultivation of outstanding young talents.
After the official meetings, 20 outstanding student representatives from Zhiyuan College, Electronic Information and Electrical Engineering College and Michigan College had lunch meetings with the Didi delegation and discussed about the current cutting-edge technologies in AI and other areas.
In the afternoon, Bo Zhang gave an academic lecture titled "AI Leads the Transformation of Travel" to hundreds of SJTU teachers and students. Starting from Didi's advantage of transporting big data and its technological strategy "AI for Transportation", Zhang Bo fully explained Didi's technological layout of shared travel, transport, and transportation infrastructure and its core technologies including the supply and demand forecasting system, map engine, smart traffic lights, etc.. Bo emphasized that Didi is also trying to open up its accumulated technical capabilities to create greater value for the entire transportation industry and at the same time it always adheres to the concept of "Tech for Social Good", tries to serve users better and escorts for better travel.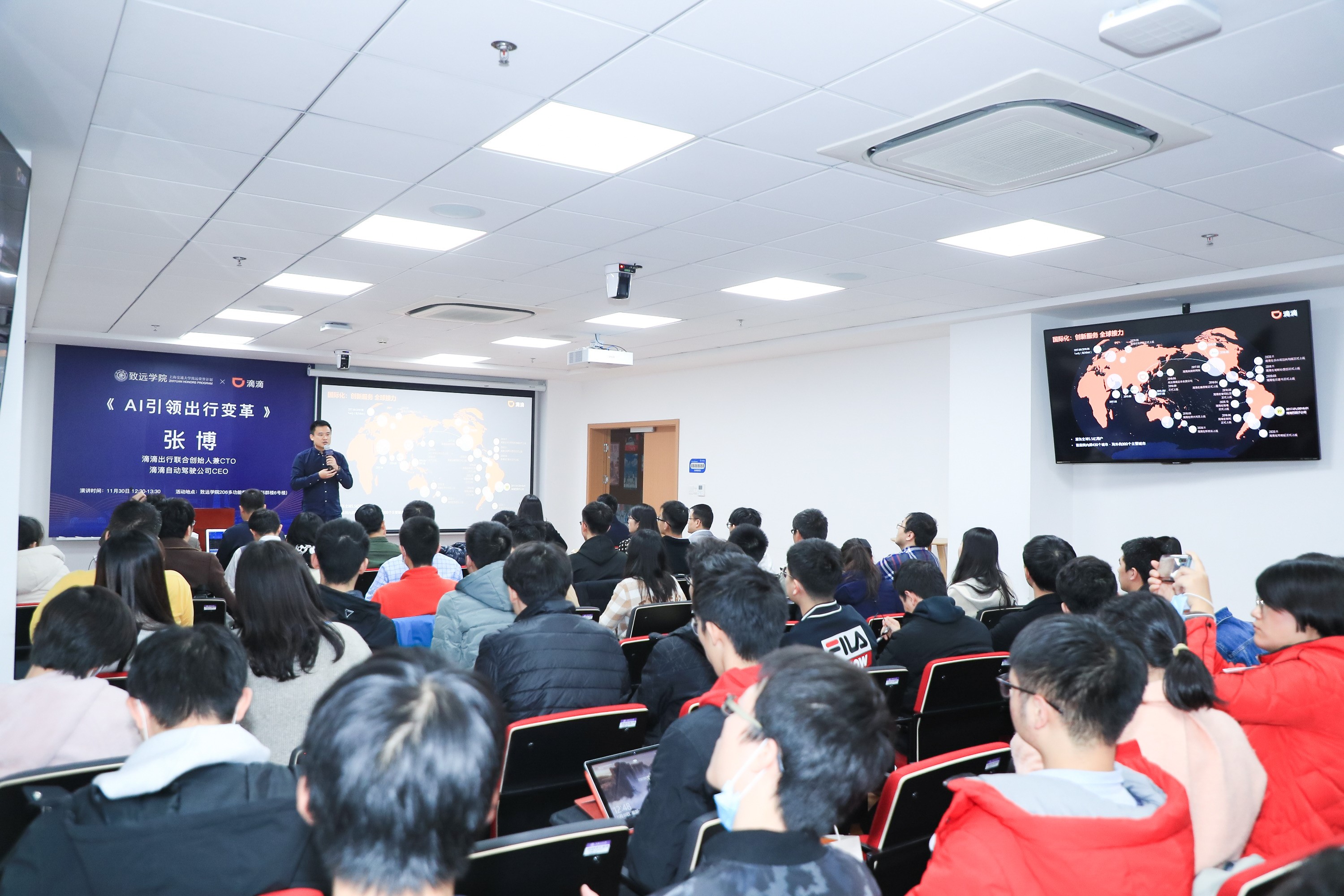 The students gave warm applauses to Bo's lecture, and actively asked some questions. After the Q&A session, Mei Hong presented Bo with a commemorative gift for his visit.
In addition, 30 selected SJTU students went to Jiading district with the Didi delegation and visited the Didi Autonomous Driving Operation Center (Shanghai) to experience Didi's autonomous driving technology as the "test ride experience officer". The students had a wonderful test ride experience and thus gained a deeper understanding towards Didi's technologies.